Hottest Award Season Fashion on Big Red
One of the greatest times of year for the fashion industry is awards season, when stars and starlets grace the numerous red carpets sporting some of the season's most exquisite ball gowns, tuxedos, and other amazing frocks.
To kick off this year's awards season, the People's Choice Awards were held on January 9 at the Nokia Theatre in Los Angeles, California. Among some of the best dressed was beloved comedic actress Jennifer Aniston, who proved "no one does black like Dior" in an edgy black leather dress. With a modest yet sexy length, Anniston didn't look a decade near her age!
Showing off her new sophisticated look, all-grown-up Taylor Swift looked stunning in a white Ralph Lauren plunging gown that screamed "Look At Me Now!" (possibly to all those exes she's always singing about).
Chloe Moretz, who has starred in movies such as Hugo, 500 Days of Summer, and Let Me In, was the sunshine of the red carpet in her neon, floral Simone Rochas dress. It had just enough flair to give a sophisticated yet young look—perfect for the sixteen-year-old actress.
Star of the new romantic drama Safe Haven, Julianne Hough looked like a midnight dream in Tony Ward Couture with embellished crystals that faded from dark blue to a silvery grey. This stunning piece was the perfect fun and flirty dress for the evening.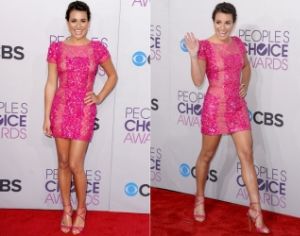 And what would the red carpet be without an Elie Saab piece? Glee leading lady Lea Michelle donned a "pretty in pink" tight-fitting mini dress with a high neck and signature crystallized design. What a belle!
Up next were the Golden Globes, held on January 13 in the Beverly Hilton Hotel in Beverly Hills, California, which never fail to prove the true elegance of the talented stars in Hollywood. There were two hot trends floating across big red all night: one was cherry red gowns, such as Claire Danes' Versace dress that looked stunning on the new mom, or starlet-of-the-night Jennifer Lawrence in a Dior Haute Couture gown with sophisticated black belt. Looking like her signature, retro-classy self, Zooey Deschanel wore a beautiful red Oscar de la Renta gown with a string a pearls, working that infinite old-fashioned charm she possesses!
The other trend of the night? White and bone dresses like the Elie Saab halter gown worn by Lea Michele, which showed off just the right amount of leg with the perfect slit.
Modern Family star Sarah Hyland looked all grown up in a black Max Azria flared dress with a trendy peplum and crystal belt.
The hot new star Lena Dunham, writer, producer, and actress for Girls, brought a classic yet modern touch to her chocolate brown Zac Posen ball gown, showing a side not often seen from the new starlet. (Girls fans, you understand!)
And finally, in one of the most charming numbers of the night, Rachel Weisz sported an adorable black Louis Vuitton with a sheer polka-dot skirt as well as a simple bow, giving the number an extra taste of femininity.
After the Oscar's came the Screen Actors Guild Awards on January 27, which always promises a show of the most tasteful get-ups previously stored in the best designer's ateliers and couture boutiques.


Popular TV series Homeland star Morena Baccarin wore a stunning Basil Soda black and floral strapless gown to perfectly flaunt her elegant figure. With a modest front slit and black peekaboo lace leading to its floral, green side train, this unique piece was devastatingly beautiful.
The ever-rising Les Miserables star Amanda Seyfried, always a sure bet for grace, brought back Old-Hollywood in a deep blue Zac Posen dress with a gorgeous train that flirted along the gown.
Veteran Nicole Kidman donned a lacy, deep blue Vivienne Westwood piece with an exquisite crocheted slit and sheer under layer that truly displayed her everlasting beauty.
Wearing a grey, belted Badgley Mischka gown, Katrina Bowden of the popular TV series 30 Rock looked like a show of beauty in the mermaid-style dress with a stunning geometric design on its upper portion.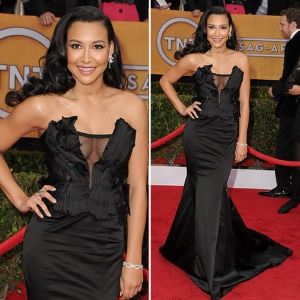 Finally, Naya Rivera of Glee wore a chic black Donna Karan Atelier that had heads turning everywhere. The gown, which featured a plunging, winged corset top, won votes across the board for best dressed.
The latest award show, The Grammy's, held February 10 at the Staples Center in Los Angeles, presented a challenge for risk-taking celebrities when the show announced a new dress code prohibiting the exposure of too much bare skin in inappropriate regions.
Famous British pop singer Adele traded her signature black for a gorgeous floral Valentino piece that featured red crocheted lace, with accented collar, cuffs, and hem.
"Queen Bey," Beyonce, looked like the woman-in-charge she is in an Osman jumper, bringing the perfect mixture of sophistication and sex appeal into the ring in this color-blocked black and white piece.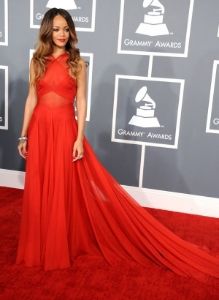 A dark grey and black sequined strapless gown by Roberto Cavalli looked exquisite on country singer Carrie Underwood, whose shape was perfect for this mermaid style dress with sheer black tulle at its bottom.
Finally, winning over everyone's attention, the edgy Rihanna traded in her studs for a train in a fire-engine red Alaia wrap gown that made her look like the cover girl for class.
Now, we patiently await the rest of the gowns to flow across the red carpet at the Academy Awards on February 24, notable for some of the most exquisite ensembles of the award season. Until the rest of the season's best are debuted, savor these truly amazing frocks!