Bold, Colorful Season Ahead with this Spring's Frocks
Even though winter's bitter chill is still sending shivers down our spines, the bright colors gracing the runways and radiating from merchandise en route to stores in truckloads will be more than enough to de-thaw us all.
Girls, be prepared to put on your big girl panties and the best shade of lipstick you own, because this season is all about being bold!
Trends
Whether it's top of the line designers or our favorite racks at H&M, finding this spring's trends won't be hard to miss—quite literally. Bright, bold, eye-popping colors are back in!
A major key in this trend is the colorful women's suits, adding just an extra touch of femininity to leave us all bright-eyed. Any one of these suits paired with a basic top and statement necklace will be sure to turn heads on any sidewalk.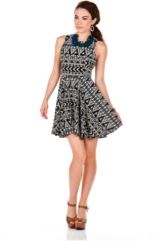 Another bold statement this season is the angled look—everything from hems to patterns to shoes are featuring trapezoids, triangles, and funky patterns to add even more edge to your wardrobe!
Designers are reining in a new colorful paisley that won't leave any reminiscence of your grandma's ugly sweaters. This new, fun-yet-sophisticated paisley is all around, whether it is on Nine West pumps or a dress from Lulu's, and is a total must for all fashionistas out there. Fashion Tip: these paisleys tend to be splashed with rusty orange, maroon, and brown. To spice it up, add a bright blue pair of pumps or small clutch!
While runways were certainly graced with color, they were also highly contrasted with shades of pale pinks, purples, and blues, and paired with nudes and ivory. If you are looking for a more sophisticated, down-to-earth look, take advantage; but as any true fashionista would suggest, add something bold to the outfit to bring it from drab to fab!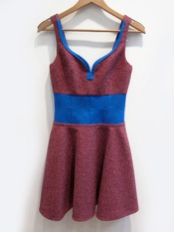 Also making a sophisticated comeback to the fashion world is tweed. But don't be so quick to dismiss! These new tweeds have an edgy touch to them that appeals to everyone from the businesswoman to the everyday woman.
Though most of us were salivating over the tweeds on Chanel's Spring-Summer 2013 Haute Couture Show in Paris (can we just talk about how breathtaking that was?) and dreaming of ways to snag one of those amazing frocks, don't fret! Forever 21, H&M, and Urban Outfitters are all featuring tweed in their spring lines—and if you want to go vintage, you can always find tweed in thrift stores. Salvation Army, anyone?
Outfit of the Week: If you're ready for a new look with the edge of the season, try pairing a nautical striped top as a neutral base with a patterned A-line skirt. Find a cute pair of red wedges and add a fun statement necklace—trust me when I was say you'll be a hit wherever you are!
Key Accessories
There are some essential items every girl should be sure to have at hand this spring, but the main key is a statement necklace. Don't be afraid to go chunky and colorful—it's the perfect accessory to jazz up any outfit when paired with the basics.
Other essential items that scream, "look at me!" and are a must in everyone's closet right now: an a-line leather skirt, chunky heels, and, of course, a bright, bold clutch. Think about all the possibilities!
New to the cosmetics shelves and gaining attention are Revlon Nail Art Expressionist, which offers two colors to spice up any ordinary manicure, and Smashbox's Megatint, which has the look of a lipstick while lasting like a lip stain!
Newest Fashion Line Highlight
Year after year, Target has never disappointed with their featured designer in the women's collection—that is, as long as you can get your hands on items quick enough before they all sell out! This year, get your wallets ready for the fabulous new line by Prabal Gurung.
Gurung, who has been seen on celebrities and style icons like Jennifer Lawrence, Michelle Obama, and Zoe Saldana, brings a bold yet refreshing design to Target's racks that is both economical (everything is under $50!) and reflective of runways across the world.
"Sexy to me is an attitude of mindset. There is nothing sexier than confidence," said Gurung.
While Gurung's signature sharp angles grace the lines of many pieces, the soft colors paired with vibrant floral designs are the perfect way to start your spring wardrobe (and what better way to get designer clothes for sales rack prices)!