My More than Me Mission: Entry 4
It's official, tonight I experienced my FAVORITE moment in Liberia! I hung out with Abigail, a More Than Me star student who graduated from our program, and tonight we are having a sleepover! Just me and her hanging out together, she she is telling me her story and about Liberian culture. THIS is exactly what I came here for! It is 1:30 am in Liberia and she is sleeping now, so I'm going to explain my day in a backwards order because Abigail has to come first!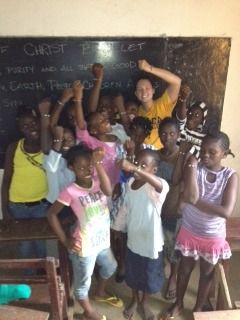 I learned about Abigail when Katie showed me a picture of her, it was one of my cover photos on Facebook, with Abigail standing in the slum with a sign saying "found". At 11 years old, she was alone and homeless, with no parents, sleeping on wood benches in the men's Video Club where tey pay young girls to "go home with them" or "lay with them" as she calls it. She told me that when men would ask her she would say NO, thank god, but she was definitely exposed to that environment while sleeping there. Then she was living with an Auntie that was taking care of her, and she spent money that her Auntie gave her on herself, and after being scared of coming home and telling Auntie, she ran away. She said she stayed at her friends house, and it was a very bad time, but after she decided to go back to Auntie, More Than Me put her in our school. She now attends a vocational school where she also lives and is doing great!! She was too old for Mary Sharpe Memorial School (where we send our MTM students) so her middle school is this vocational school. She is learning how to cook and bake, and she says her favorite thing to bake is cinnamon rolls and coconut cookies! Abigail made us dinner tonight and it was literally the spiciest thing I have EVER tasked in my life! Pasta with pepper sauce, and my mouth was on fire!!! But I'm glad I tried it because she made it for us, and then it was more for her :) The other MTM girls would handle it but not me haha!
After Abigail was over for about 2 hours the MTM girls decided to have a ladies night out and I was originally planning on going but I just wasn't in the mood to get ready and go out, and plus I figured it would give me more time with Abigail. It ended up that they left and it was me and Abigail the rest of the night! We had so much fun! We went swimming, looked at pictures, watched some Liberian TV, and talked a lot. She is absolutely gorgeous and so sweet! She is very smart and motivated, and is a very good girl, even though she has had extremely negative influences in her life. She said a lot of people in the slum complain about being poor, but she said "you should not let those words come out of your mouth like it says in the Bible". She said if you only say good things, then you will have more good things in your life. I gave her a double high five when she said that haha! Before the girls left I showed her the things that I brought to give to students, and I ended up giving her 2 tiny motivational books about believing in yourself and living life to the fullest. It has cute illustrations and nice quotes. When I would read the quotes, I gave her options of which 2 our of 3 books to choose, and she loved the quotes and chose the ones with them, and it made me so happy to imagine her reading them when I am home in America, and she will still be about to be encouraged by something I gave her. Then I showed her 2 African barbies and a doll, and right away she chose the barbie with the glamorous long dress :) I asked her if she played with dolls and she said Yes I have so much fun, and she kept petting the Barbies hair. I also had a glitter tattoo kit from Glittertoos, a great company that has temporary glitter tattoos that you order online that are so cute and fun, and we gave each other butterfly ones! She was so caring and helpful, it was just so great to see. Other things we talked about were what it is like in America, what girls do when they do not go to school, and her story. She is very mature and great to talk to, I enjoyed it so much. And I was so thankful that she was so open about everything!
I am way too tired to explain what I did during the day, but I'll give an overview :) I taught the oldest girls this morning (ages 10-15). We danced the first hour, just dancing around the room, me teaching them moves, them teaching me Liberian moves, and it was great! If sweat started dripping off me they would either catch it or wipe it away for me, so sweet1! And then I taught the Colors of Christ bracelets. Each color helps explain the story of Jesus. the girls were FANTASTIC! They participated a lot, stayed interested, and were really eager to read the Bibles that I brought when we were done. One girls copied all fo my notes on the board before we had to leave, that was amazing to see. I loved talking to them about God, and I really they enjoyed it!
I'm going ot go to bed now but I will explain more of my great day tomorrow! Thank you so much for reading about My More Than Me Blog!
- Grace
Click to read Grace's first, second and third entries.
Photos courtesy of Grace Schroeder and http://social.dol.gov/blog/wp-content/uploads/2011/02/liberia1.jpg